Wattup Fam!
We hope that you've enjoyed these Homegatin boxes as much as we've enjoyed putting them together for you. COVID gave us a little trouble with the playlist and recipe this week, so we're running back a couple of classics from last year. Apologies but we hope you'll understand - sometimes COVID gets the best of us and we need a little bit of time to rebuild.
In this edition of the Homegatin' box that will help you cheer on the Panthers against Tompa Bay and hopefully put this terrible season behind us, we've put some things that make us feel like we're all down in Tampa Bay, from the beach bag to the salt rimmer you can use for the Tampa Tequila Sunrise (or your own drink of choice). Besides the gear, on this page you'll have exclusive access to:
A recipe for Tampa Bay Rice Bowls from Chef Alyssa's Kitchen.
An exclusive recipe for a specially designed cocktail for NYC created by Amanda Britton, Charlotte Magazine's Best Mixologist of 2020
A High-Res Copy Of Exclusive Homegatin' Trip Art from our featured artist Hannah Clayton
A link to join the exclusive virtual watch party that's only available to other Homegatin' subscribers - be sure to be there before kickoff and join in our halftime cheers as well with other Roaring Riot chapters around the country - and even from Josh and Zack in Tampa!
That's in addition to the beach goodies and other swag that we hope have you feeling as close to drinking beers with us on the beach at Shephard's as we could get you - be sure to take some pics of your drinks and food and tag all of us on social so we can all be together this Sunday! Keep Pounding!
This section doesn't currently include any content. Add content to this section using the sidebar.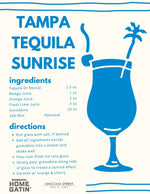 Founded by former athletes KJ Brent and Kyle Hunte. The concept came about after realizing a shared passion for curating playlist for different moods, events and activities. With music being a key component in an athletes life on and off the field, Players List was designed to bring these moments and music together. This platform gives athletes a way to directly connect with their fans and followers. They choose a mood, 25 songs, and give insight to their song selection. We hope you enjoy getting an inside look at the tracks streaming through the headphones of your favorite athletes.
Virtual Watch Party

PLEASE NOTE: Watch Party works best on laptop or desktop.